Whatever. I don't like broad brushes to paint social portraits. In fact, I hate them and find them to be disingenuous and counterproductive. And I especially don't like that they are used on moving targets.

In the meantime, I think your generalizations are pretty far from the mark and I can make powerpoints too. I was on the leading edge of that crutch and used it for 3 decades, in round numbers. So, yeah, I put anything in a graph too. Big deal.

Real Boomers are far too old to be schelpping elks out of the backcountry. Nouveau boomers like myself are pretty slow at best, and most of us talk a lot more than we apply, much less hunt - at least when it comes to big game. Of the ones that have your kind of money, only a tiny number have legs that make 18 holes with a cart, much less 1800 vertical with a pack. Upland birds might be slightly different but there was only one boomer on your grouse adventure, and he was of the nouveau variety, minus the $80,000 pick up and Sitka anything.
The term doesn't equate to an age it changes over time...
Perhaps I've been unclear I think some part of hunting pressure currently has to do with this demographic bulge.
So in 2011 the first boomers were retiring... but that means that the peak of the generation was turning 52. Which is my argument Time + Money. I don't think 52 is an unreasonable age to pack an elk... I hope not.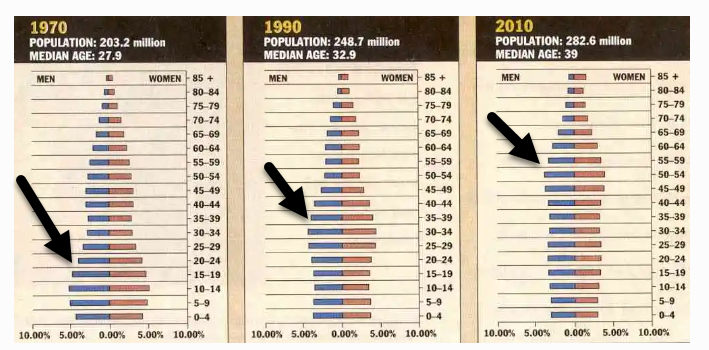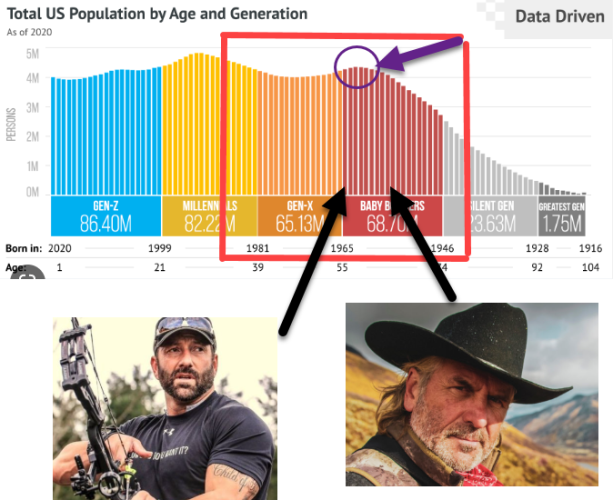 Last edited: