Joined

Dec 12, 2020
Messages

26
Location
I posted this in a thread about tuners on another site but figured I'd share it here. The Ammo and Reloading section seemed like the best place to put it.
I bought a Kinetic Security Solutions adaptive tuner system around a year ago as I was primarily shooting factory ammo and it seemed like it would allow me to tune my rifle to shoot factory ammo. After a frustrating range day of trying to interpret two shot "groups" without seeing any benefits I took it off and forgot about it.
After reading a bit of discussion on tuners I figured I'd put it on and do some "testing". I recently put together a .223 trainer and am just shooting handloads that I share with my AR. So again this should be an excellent tool to tune my rifle to a load.
Load data:
75gr hornady hpbt seated to 2.25" or so
21.7gr h322 measured by volume
Assorted brass.
Rifle:
ARC Archimedes
PVA prefit
KMW Sentinel Stock
I had been shooting it bare muzzle and used a .338 Sidwinder brake I had lying around to mount the tuner.
I shot a few rounds to adjust the POI to be slightly high and went into the tuner adjustment test as outlined here:
PATENT PENDING KINETIC SECURITY SOLUTIONS - ADAPTIVE TUNING SYSTEM INSTALLATION & TUNING - PLEASE READ NOTE: If you install 3 set screws, the unit will be more likely to vibrate loose. ONLY USE 1 SET SCREW! - One (1) spare set screw has been provided. Prior to installing...
www.kineticsecuritysolutions.com
Tuner settings are written below the targets.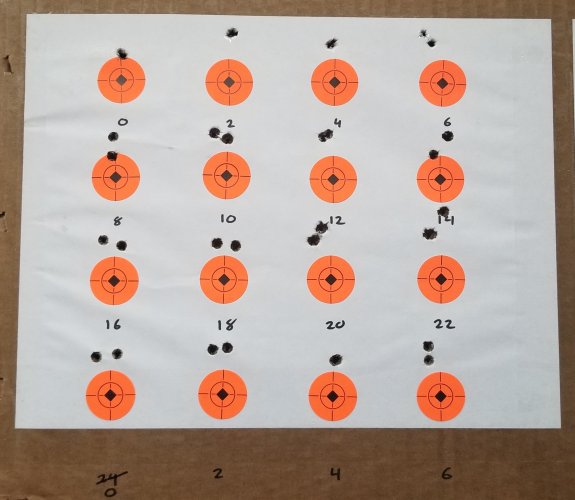 I picked the first setting 4 as my "best" as it "grouped nicely" and seemed to be in the middle of a "node" with similar POI. I used 21 as my "worst" setting as both 20 and 22 "grouped poorly" and seemed to have some different in POI.
I then shot 6, 5 shot groups. 2 groups per target (essentially 10 shot group). All of setting 4 was shot first and setting 21 shot next.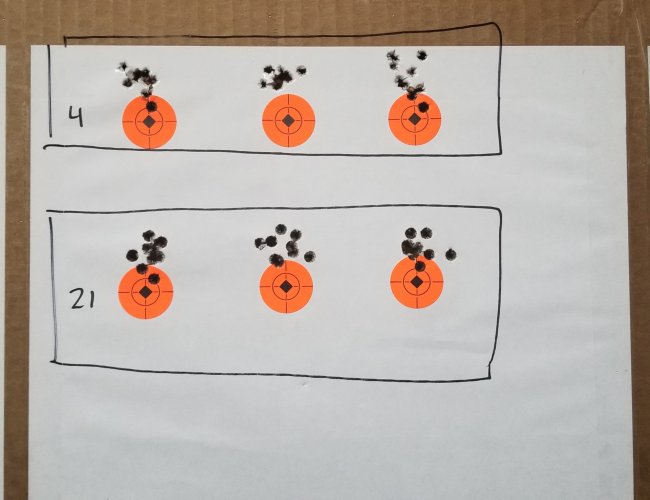 I then removed the tuner and did the same with just the brake. I did make a zero correction on my last target to zero as I think I will leave it on there considering how fun it was to shoot with no recoil.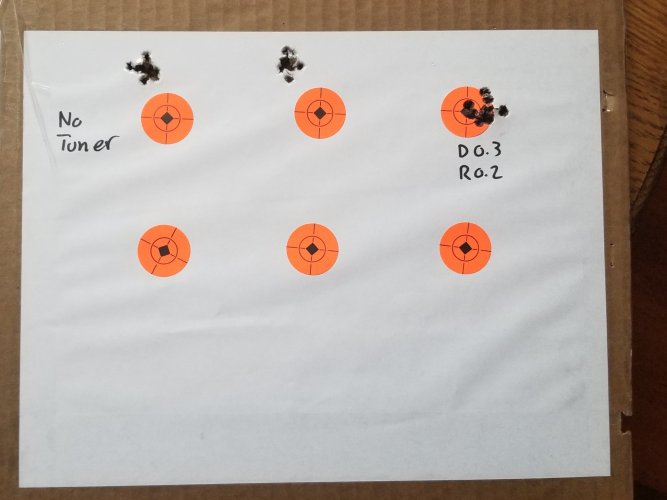 In retrospect I wish I had not made the zero adjustment for the last group as I am betting that though the "no tuner" 10 shot groups are all tighter than the tuner groups, if you were to overlay them all as 30 shot aggregates there would probably be very little difference.
The only thing that can be reliably concluded from my results is that 2 shots are pretty much useless for making any sort of reliable decision.
I know this example is a change in tuner settings and not an ammunition change, but I think that we often use small sample sizes to fool ourselves that our incremental change in seating depth, charge weight are really making a significant impact on our actual shot dispersion. Its plausible to me that with the quality of components available today we make pretty good ammo despite our load development methods, not because of them.