Joined

Jun 6, 2013
Messages

4,800
Location
Something I have been interested in learning more about, is Travel Management, or the lack thereof, on the Beaverhead-Deerlodge (B-D) National Forest.
Travel Management is an official process stemming from a
2005 Rule
that Forests engage in to determine
"a transportation system that is environmentally and financially sustainable while meeting public needs. Under the travel management rule, each unit of the National Forest System (NFS) is required to identify the minimum road system (MRS) needed for safe and efficient travel and for administration, utilization, and protection of NFS lands. In determining the MRS, the NFS unit must incorporate a science-based roads analysis at the appropriate scale to identify NFS roads that are no longer needed to meet forest resource management objectives. This collaborative travel planning process must emphasize public involvement and coordination with state, local, and tribal governments."
The majority of the B-D does not have travel management. Due to this, many problems stem. Game Wardens cannot cite folks for driving down closed roads or trails, LEOs and Search and Rescue struggle to effectively function on the landscape, the Forest is ineligible for many grant opportunities dedicated to trail and road improvements, rogue motorized use and the pioneering of trails is rampant and expanding, and user experience suffers as does the resource. There's a long history of the Forest saying it's going to be a priority, and then the can is kicked down the road. I don't know a lot about why, and I should say I am not necessarily calling the Forest out for poor management. Could be a function of priorities changing with every administration, lack of funds, etc.
I made this map to highlight the problem in a chunk of earth I love. I acquired the BLM and USFS system motorized roads/trails datasets. I then skinned dirtbike trails data from the crowdsourced website trailforks.com. You can see those trails in yellow. The yellow lines are unofficial motorized trails either utilized or pioneered by the public - advertised to the public as trails on which to recreate. Trailforks allows users to append beta to the trails they share. One of my favorite nonmotorized hiking trails in the north end of this map, is listed as a double black diamond dirtbike trail, on which a rider can ascend 600 feet, drop 2,000, and cover more than 3 miles in little more than 45 minutes, bisecting an inventoried roadless area.
I am sure other maps in other areas could be made showing similar rogue-use.
I hope that as folks bring things like this to the forefront, the B-D makes travel management a priority or are allowed/encouraged to. As Montana explodes in population as does motorized use, we need to get this under control. It will be an expensive and at times contentious process, but it is the right thing to do.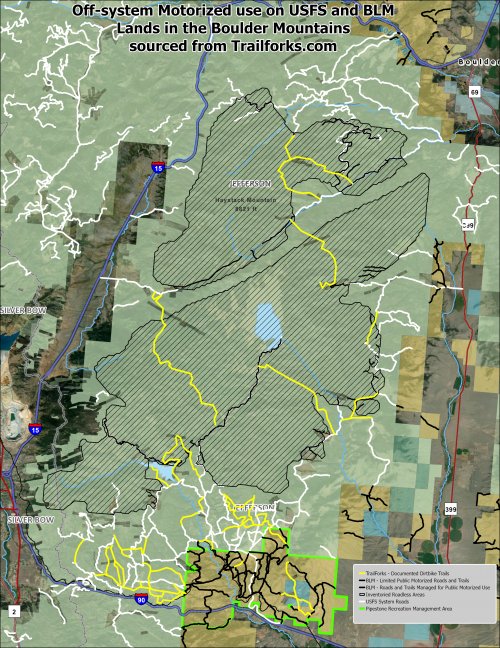 Last edited: