Joined

Aug 25, 2011
Messages

1,668
Location
We arrived 2 days prior to rifle opener in Montana, I brought 3 of my friends over this time, Adam, Stephen and Aleks, as Adam and I are the wrong side of 50 I thought it wise I pair up Stephen (whom I had shown the ropes in 2016) and Aleks as they were both in their 30's.
The first day didn't go according to plan, near Lima, no Elk seen, but in the next valley over there were plenty of shots, both myself and other locals suspected something had gone on prior to our arrival, but no good doing armed walks so we moved location.
We went to the Pioneers, many thanks to a member on here for arranging some great accommodation (better than tents!) and whilst we didn't see many Elk we saw signs, and many other critters, a great place to stay.
So Adam and I headed down to a spot I know near Dillon, our first outing and Adam located a nice 6x6 bull, as advised on this forum many times before and in Randy's video's, after the rut and rifle opener the Elk go into the nasty places, and that's where we found it, whilst a lot of hunters were complaining no Elk, Adam found one, 3 1/2 miles in up a mountain at 7500', sadly over 800 yards away, he put a stalk on to close the gap but some crunchy snow gave the game away, and it crashed off through the woods never to be seen again, the little bugger!
The next day we returned, I went in one direction and Adam in the other to try a pincer movement, well after a long tiring walk I spotted a rag horn bedded high up in the wooded valley, it was in a tiny opening, I tried to get closer, but with the thermals and thick woodland it was impossible, then he got up and started to feed, I dropped down, did a range and sent the 180 Nosler Partition on it's way.
When I looked again he wasn't there, a sense of foreboding came over me, as I rushed up to where I saw it last (well rushed is a slight exaggeration for a flat lander)I heard a gasping sound, sure enough there it was rolled up against a sapling, it tried to get to it's feet but I swiftly a put a couple more into it, job done!
Sadly it must have been beaten up badly in the rut, it's hind quarters were in a terrible state, full of infection, and the muscle wasted away, he wouldn't have made it through the winter for sure.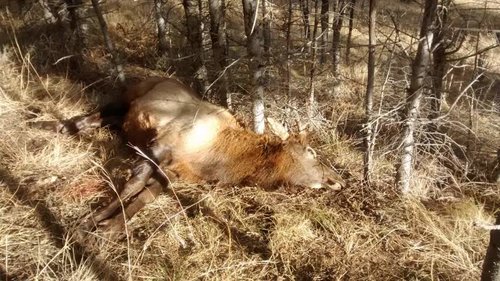 We boned out the meat and headed back down the valley on our first trip, we lost a lot of the rear quarters to infection, otherwise it would have been 3 trips, but with our packs stuffed to the top we made it back in 2.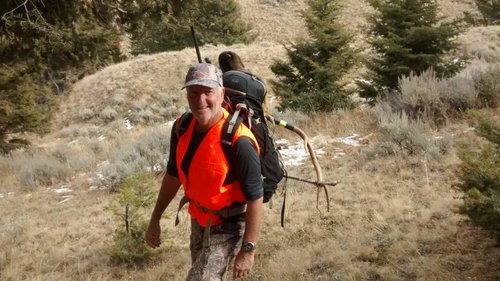 Front quarters cooling ready for the last return trip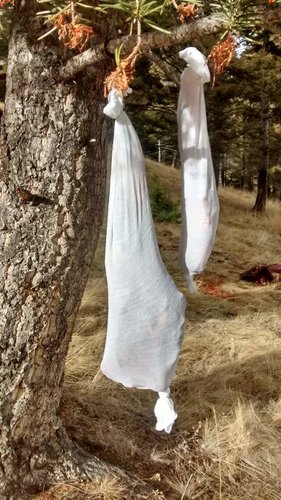 What we didn't know was that Aleks had brought a Llama to aid with the extraction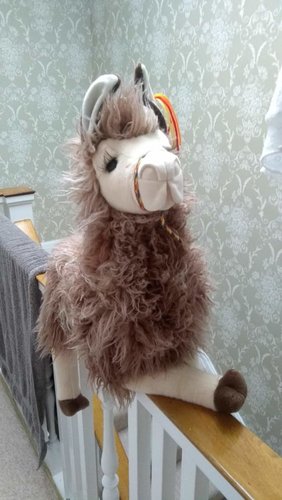 Last edited: