Purchased from Wall Tent Shop in Idaho. Used 4 times. Needs nothing, you could take it straight from my house to elk camp and have everything you need. Plenty of space for 6 hunters and their gear, plus stove and full kitchen inside [kitchen setup not included]. In excellent condition except some tar/pitch on the tent body and fly near one of the stove jacks [which could be cleaned off] and a few slits in the vinyl floor. The stove is huge. Jammed full of pine rounds then damped down will run 6+ hours. Aspen or split wood 3-4 hours. Itemized list of contents below. I've tried my best to illustrate the value of all the options based on current prices from Wall Tent Shop's website. The conduit frame alone would be $607 to replace since 1" x 10' conduit is now $16 each and it took 38 of them to build the frame!
Wall Tent Shop Wilderness Hunting Tent 16x20 $1075
5' Sidewall
Fire, Water, and Mildew Treated
Front and Back Doors
Stake-in vinyl floor +$280
6 Rafter Angle Kit for extra snow load strength +$275
3 Rafter Angle Kit for awning +$150
Tent rain fly + 8' extension for awning +$450
Coat rack +$45
Storage bags for tent, fly, and angles
Full set of 1" conduit poles +$607
Tent Replacement Cost = $2882
Yukon 5 Stove $510
Nesting stove pipe, damper, and spark arrestor
Internal stove grate +$20
Stove shelf
Stove hot water tank +$75
Stove Replacement Cost = $605
$2200 for all of it
$2000 for just the tent
$400 for just the stove
Pickup only, located in Denver.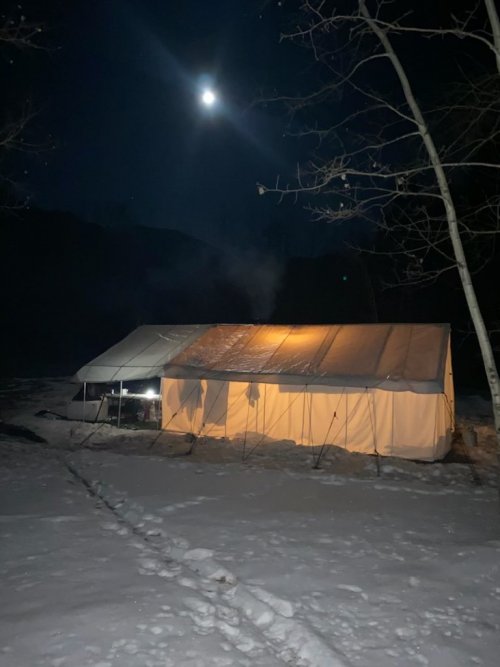 Last edited: