Joined

Sep 11, 2020
Messages

4,314
Spent my last time at the range before Africa getting the iron sights on my Springfield zeroed and making sure the Warne QD rings will hold zero. I sighted the iron in for 100 yards which is quite a stretch for this old man's eyeballs. The rear sight I mounted on my war horse are off a 1990s Model 70. Nice that they are adjustable all ways but the adjustments are tricky. Requires a magnifying lens and careful touch with tiny screwdriver. It required more ammo than expected. Also, I had to replace Dad's old Eastman dies when they broke (never much good when new). So new RCBS dies are slightly different and I expected the group with scope might move from last time at the rsnge. It did - up and to the left at 200 meters. I adjusted right two clicks and down one. Next shot was almost on the bull. Removed the scope and reattached it. One more shot right above it. Rings held zero.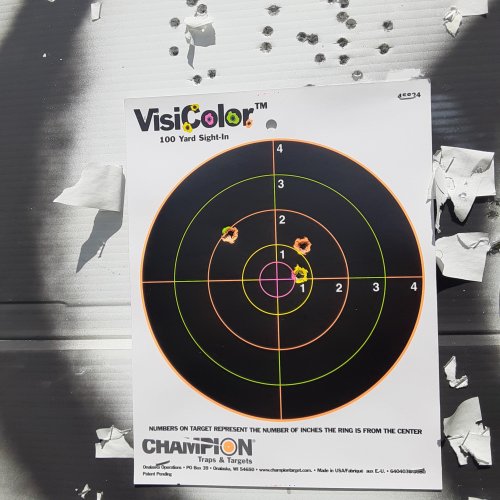 I walked downrange to target after every shot so my rifle could cool completely. With only six live rounds left I called it good and cleaned off targets. Back at the gun I was just starting to pack up but figured what the hell, I'm here may as well take another shot just to be sure. Not wanting to waste a target, I pasted over holes in an old one and hung it up again at 200 meters. That last shot was right in there sub MOA with previous two - approx 1" @ 220 yards. Good to go!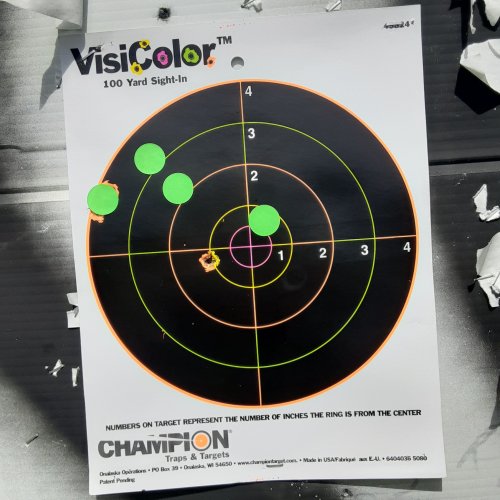 The iron sights group at 100 meters wasn't great, maybe 2" but my eyesight is not great at all. Nevertheless, I'm now confident I could kill a deer or elk at that range or closer with iron sights if necessary.
Last edited: