Joined

Sep 15, 2010
Messages

3,706
Location
Well, just returned from another great trip to the Big Sky State Friday evening, and had a great experience as usual. My Father in law came out with me for 5 days of chasing bulls in an area that I had hunted about 6 weeks earlier during archery season.
In September we were in the elk pretty much every day, and I had a close encounter with a couple of bulls, but one in particular was a pretty nice 6x6 that was at the top of a pretty nasty drainage. I had no illusions that this bull was going to be hanging around in the same area. This area gets hammered the first couple of weeks of rifle, and I had to assume I wouldn't see him again.
We took off at about 5am Saturday morning and drove all day getting to our motel around 11pm. We quickly got what we needed unloaded, and hit the hay.
The next morning we were up a couple of hours before light, and with only a short drive to the area, we were set up to glass at first light. We stayed a ways back so we could glass a bunch of country to try and get a lay of the land, spot any other hunters, and see if we could see any elk feeding up high. It was clear, cold, and windy, so we were hoping the elk would stay up for a while.
After glassing a while we hadn't turned anything up, so we hit the trailhead and moved out to a ridge that we found that gave us really good views of some good country, and at least during archery season, no one seemed to hunt. Almost right away we picked up some elk way up high. I could tell there were 5 elk up there, but from 2+ miles away it was tough to determine what they were. I did mount my binos to the tripod adapter, and even from that distance it cleared the picture up well enough that could tell there was at least one good bull in the group, and he was up on the finger where I had tangled with the nice 6x6 during archery season. We watched them for a while as we worked our way up, hoping we could get a better view and determine if the other elk with him were legal bulls as well. Shortly after we started watching them 4 of them started to move off the finger into some timber below, but the bigger bull moved off by himself into a more secluded part of the drainage. It was a tough decision, as I felt like I could get up to where he was, but I wasn't sure my FIL had it in him, plus it was the first day, and I was confident no one else had seen him, and we would likely be able to pick him back up. We decided to keep moving up so we could take stock of everything in the area that evening.
As we moved continued to up it we saw some promising sign that some bulls were crossing the ridge, and possibly using an adjacent draw that held a pocket of timber separated from the rest of the drainage. It was fairly slow hiking with 8-24 inches of snow, so we took our time not wanting to get too steamed up, not to mention my FIL has not spent a bunch of time at altitude, and we were climbing towards 8500ft pretty quick.
About mid-afternoon we decided that my FIL would sit and glass that pocket of timber and the ridge with the sign moving back and forth over it. I was going to move further up the ridge above the timberline, so I could see as much country as possible, and possibly pick up that big bull again. I told him to head back to the truck on his own and that if I got on a bull, it could be a while until I got to the truck.
I started moving up this ridge that separated two big drainages, and as I was gaining elevation I spotted a group of cows across the drainage about 1000yds to my right. They were above timberline bedded on a bald ridge soaking up the sun and feeding a bit. They kept their eyes focused down towards the timber below them, and I thought maybe a bull might be waiting to pop out and feed up, so I periodically checked them out, but no bull appeared. As I continued to move up I saw 4 elk above me about 400yds, on the same ridge. It was wide open, but I had a little knob between us and the wind strongly in my favor, so I felt comfortable moving up slowly while glassing towards the cows and in the opposite direction where I had seen the bull that morning. At this point I had no idea if the 4 were bulls or cows, but as I approached the knob and edged around it, the elk were only 270yds, and they were all bulls, a spike and raghorns.
Now keep in mind, I am a novice elk hunter, and I have never killed a bull, so the idea that I would pass on a legal bull is unrealistic at best. I dropped back, got my rifle ready, and began creeping forward with my pack and rifle around the contour of the knob. I was able to move up to 253 yds, got settled on my pack, and dialed the range. I picked out the nicest of the raghorns, a small 5x5, and waited for him to turn broadside. When he did, I settled the crosshair 1/3 up his chest, just behind his shoulder, and sent the 130 grain Accubond on its way. The .260 doesn't recoil much, so I saw the strike and watch the bull hunch up perfect. He moved off after the other three bulls, but was obviously struggling.
I collected my gear and moved up the ridge after them. I didn't make it 50 yds and I could see the bull still standing, being attended by one of the other bulls. Now, this was a pretty sharp ridge, and it wouldn't take much for this bull to bail off into a really nasty hole to the right, so I decided to anchor him. He was facing away, so I thought breaking his pelvis would be a good option; which broke him down hard just perfectly up on top of the ridge. However, in one last act of defiance, he got himself flipped over and took a several hundred foot plunge down off the ridge sliding down to the timber line before hanging up. I was so excited to have killed my first bull that the slide down the wrong side of the ridge really didn't register, it would, just not yet.
I got down to him pretty quick and tried the best I could to get some pictures by myself before I started working on him. I won't bore you guys with all the details of the pack out job that persisted until Tuesday evening, but the short version is: Sunday night – 6hrs with a boned out rear quarter in the pack; Monday – shuttled the rest out of the hole into a more favorable drainage in a whiteout and needed to locate my FIL with .357 echo-location and then decided we would come back in and take it the last 3 miles out in the morning; Tuesday – 6 hr round trip and the bull was finally all in my truck.
We hunted the last 2 days and never found my FIL a legal bull. We did get to meet Randy11's Dad and Brother; both of which are just as high quality as he is. I also gained a very strong appreciation for 3 pieces of gear on this hunt: Timberline pants, Jetstream jackets, Vortex binocular tripod adapters.
Below are a couple of pics of the bull as I found him.
As he lay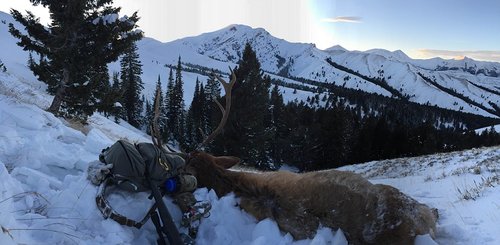 Propped up on my leg.