Joined

Feb 3, 2011
Messages

3,422
Location
I've been wanting to get back to a spot where I found a decent amount of antlers a few years ago in the fall and see if I could find some in the spring in a little better shape. It is a pretty good drive to get there and hard to justify a special trip just to look for sheds so I haven't gotten back in a couple years and even now I didn't make it until the first of June so I wasn't sure what I would find. Last time I found a decent amount of sheds in mid November so I figured this might be a pretty overlooked spot and thought I had a good chance to find some even this late.
Both my son and I were going to be about half way to the spot anyway so we decided to go ahead and make it happen a few weekends ago. I picked him up at a church camp and on the way back he hung out in a hotel room while I was working on a job. We ended up spending some great time together.
Things started out pretty good the first day, he found the first antler. A fresh brown mule deer shed.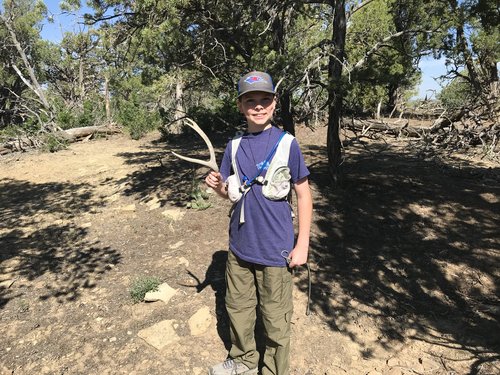 We ended up hiking right at 11.5 miles that day and found a few more but not anything to write home about. At one point I thought I saw a boot track and I was worried we may end up coming home pretty low on sheds. After the first day we had 4 1/2 sheds. Only one fresh one and a little over 2 miles of hiking per shed. Really 4 miles of hiking if you multiply the miles we covered times 2. I'm not sure how effective he was at finding them though, I spotted a couple and waited to see if he found them or not and he actually stepped on one of them without seeing it.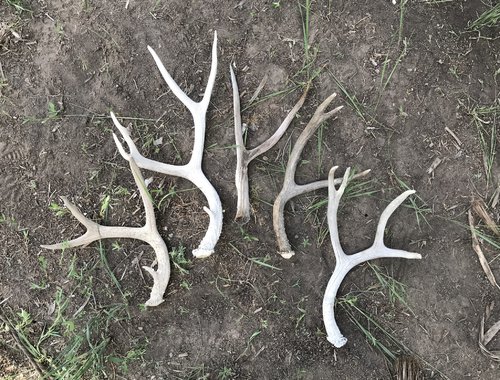 He was really wanting to find an elk shed, he actually really wanted to find a matched pair of elk sheds but I told him that the odds of that were pretty low but I really was hoping we could find an elk shed for him. Sure enough the first shed we found on day 2 was an elk shed and he found it 100% all on his own. He was probably about 25 yards away from me in a spot that I thought he had no chance of finding a shed when he found it.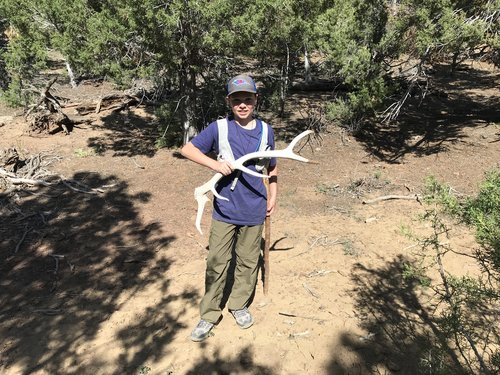 We hiked a bit more and again thought we saw the remnants of a boot track. I had a few spots marked on my GPS where I had found sheds a few years earlier and we struck out completely on those spots. Lunchtime rolled around and we had a whopping 1 1/2 sheds for the day and a little over 4 miles on the boots. He was ready to call it a day so we decided we would go back on a slightly different angle on the way back to the truck and maybe find at least a couple more sheds.
As we headed back we ended up off to the side of where I really wanted to go and shockingly picked up a couple of very old deer sheds. We angled back more to where I wanted to go and landed a few more deer sheds, a couple of them pretty decent. Before too long we are up to 8 deer sheds on the way back to the truck! Just before we were getting back to the ground that we had already covered, we ended up finding exactly what he had been wanting to find so bad, a matching set of elk sheds!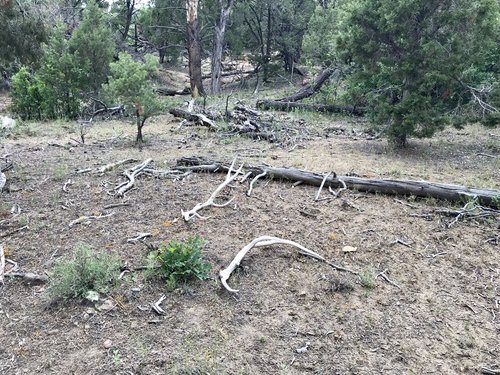 This is my pack loaded up with the last set on them on the 2nd day.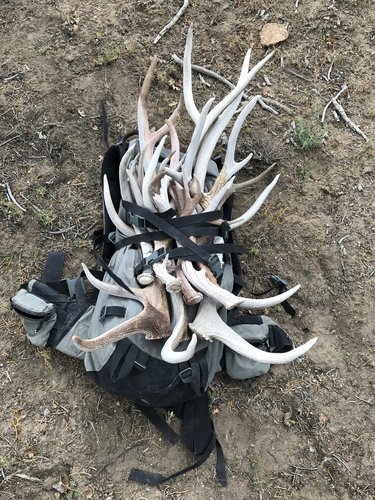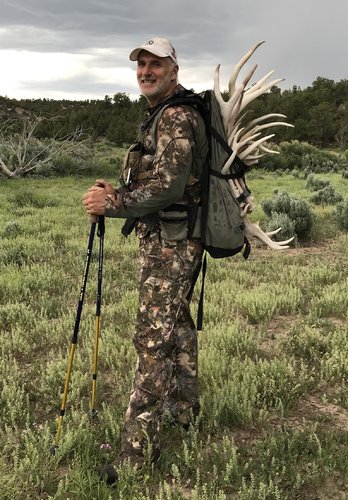 Here is the final tally at the house. I threw a few rulers in there for perspective. Nothing spectacular but a pretty decent haul considering that we were at 5 sheds and 2 broken pieces of antler at lunch on day 2 and ended up finding 10 sheds on the 4 mile hike back to the truck that afternoon!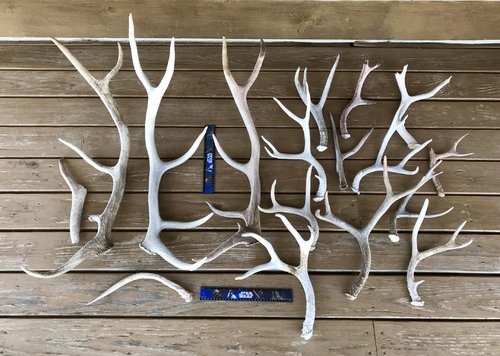 Last comment and really the reason that I posted this. I can't really figure out why we found so many antlers from last year and so few fresh ones. Is this a deal where someone else was through there already this year and picked up all the fresh antlers and didn't take the older ones? Was it a deal where the snow pack was so heavy in this area this year that the animals were significantly lower and shed at a lower elevation this year and that's whey there were so few fresh ones?
Just curious if anyone has any input on that. We were pretty happy with the end result, just curious on if anyone has a plausible explanation for the lack of fresh sheds that we found.
Thanks, Nathan
Last edited: