Joined

Mar 2, 2014
Messages

447
Location
Thanks to this forum, I've gotten to know Hank (Hank4Elk) both online and in real life, which is quite the treat. We've shared our appreciation for Catron county, hunting, and the stories that make up our lives. One of those stories is that I'm pretty much an adult onset hunter and have been trying to pull a bull tag for 9 seasons, despite knowing how to play the odds game in NM very well. It just hasn't happened but at the same time I drew an oryx tag after 2 or 3 years, so go figure. Meanwhile, veering into my life is Hank, a guy who'd give you the shirt off his back and has developed his ~quarter section of land in Catron county into a lovely place for elk to feed and drink. NM G&F has noticed this and occasionally gives him private-land tags for elk to compensate for the improved habitat, thanks to the program they've set up.
So, this year the draw rolls out and I
actually
drew my first bull tag in NM (save that for another post) and my kid drew a deer tag again, both in my home unit of 17. A few weeks go by and Hank reaches out to me and, assuming my usual luck, asked if I'd be interested in a tag to hunt bull. "Well....," I said, "I can't this year since I drew!" He then asked about my son, who I knew had enough on his plate to take on a bull tag. So I humbly swung for the fences and asked Hank if he would consider letting my brother, who lives out of state now and just turned 50 after a rough year where was he laid off by an employer of 25 years, to have the tag. Hank agreed and both my brother and I were over the moon.
Due my hectic work schedule and busy family schedule I only had one chance to learn the lay of the land before my brother flew back to our home state of NM. We both knew it would be a tough hunt to try to catch the elk on property during shooting light but we gave it our most. We came up with a game plan for each day, since Hank knew the elk patterns, and had to hope elk and human schedules collided on the 140 acres we shared. Each morning, we'd wake up in one of the prettiest valleys in western NM and sneak to the tree line to find the elk and what is my brother's first bull hunt.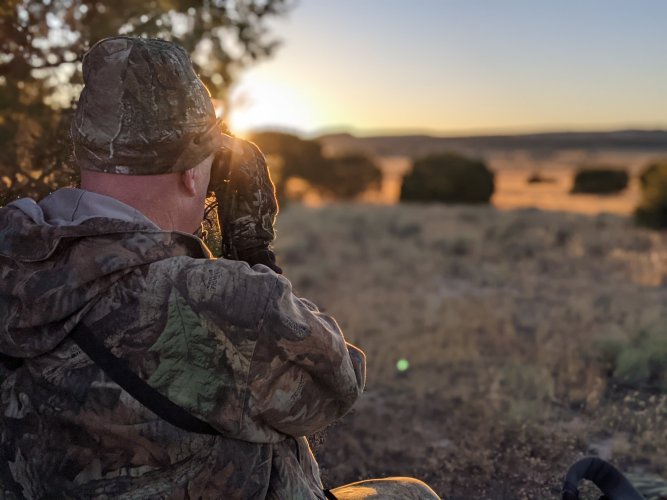 If nothing was there, we knew they'd stay away until dusk, so we had plenty of time to visit family in Reserve (you gotta try the jalapeno popper burger at the Main Street 435 Grill), see our old childhood home, take dirt roads our parents used to drive on, and see old family ranch property. It was a trip down memory lane, in other words, and how often do you get to do that with your sibling and have zero distractions from work or others? And being just a short drive from Pie Town, NM, fresh pie, coffee, and people watching was on the menu, too.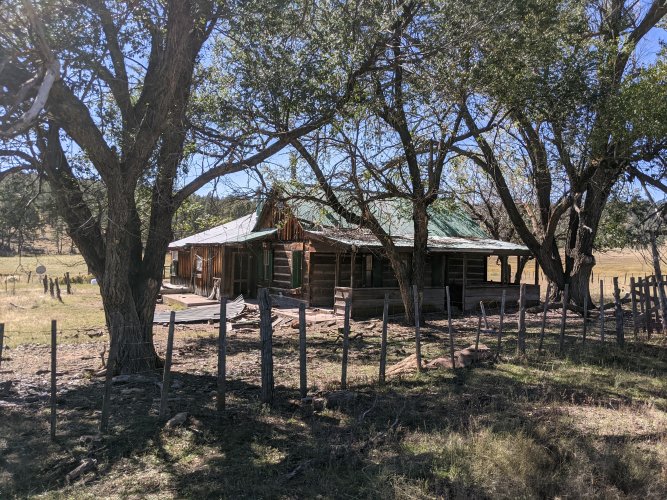 The other great pastime during the day was getting to hang with Hank and his absolutely superb and content dog, Rio. This dog is living the life of Riley, bounding through the grama grass, looking for gophers and rabbits. It was great to continue to get to know Hank more, share some of his coffee, and in turn share some of our fresh baked pizza (car camping is never the same once you get a propane powered pizza oven). We traded stories about the area, families we knew, and other musings on our world.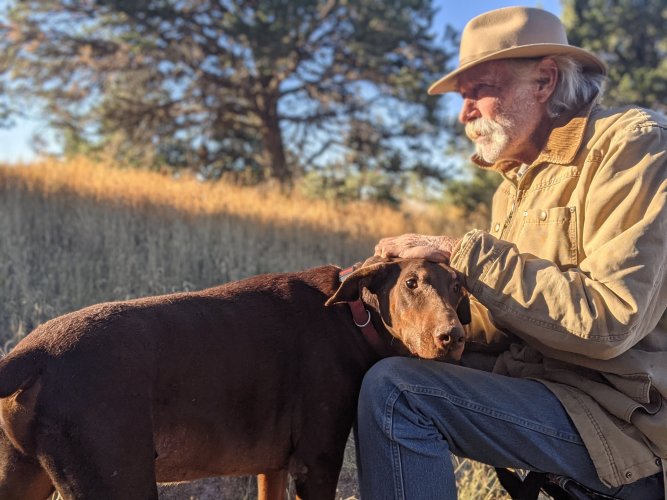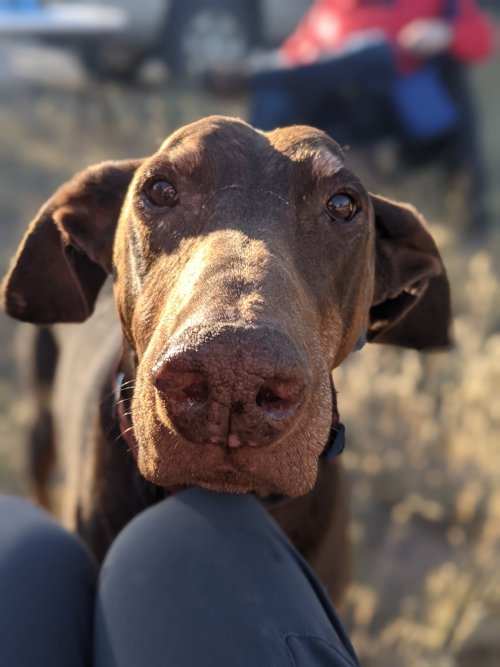 Heck, we even took one day off to go back to my home, which is where my brother's son goes to college now. It was their homecoming week and we couldn't miss the festivities on one day, which included my wife playing in a band, a lively entertainment scene, and my nephew's rugby team cleaning the clocks of their opponents. A fresh shower, some cold beer, and then a good New Mexican meal had us ready for 2 more days.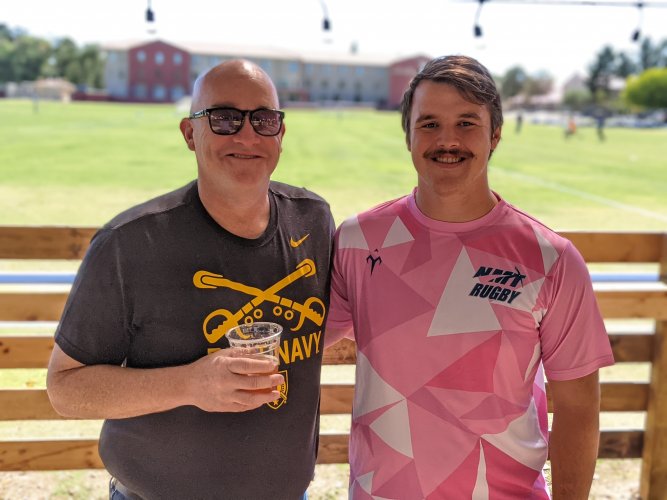 At the end of the day, we never met up with the elk but had interaction with two different herds and two good stalks on the one led by a solid 6x6 that kept jumping over the fence before we could get in range. Such is life hunting on private, but what a good time it was. My hats off to Hank for sharing this chance and his hospitality and for making some great memories to share with my big brother. THANK YOU, HANK!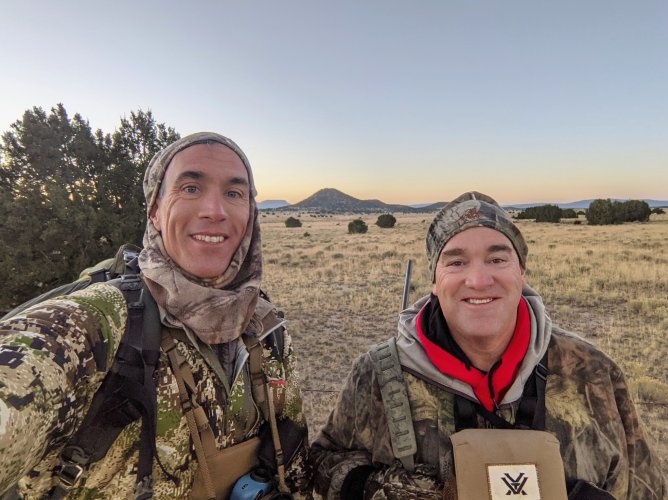 (caption: there's a herd bull about 1200 yards too far away over our shoulders)
Last edited: