Joined

Sep 11, 2020
Messages

4,241
Basically, there is little opportunity for most of us to get good enough at moving targets to be sure of hits. SEAL, Army, Marine snipers, OK. Most of us aren't. Even if you hit the animal, you are just as likely to gut shoot it, or waste meat.

Just don't.
Good advice. Unless you have the fiscal and physical resources available to practice shooting at moving targets a LOT, it's a bad idea. Most guys I know who do the drive thing are shooting buckshot. I participated in one drive in my life and one was enough. Too dangerous, especially with rifles. And especially with that crew!
Also, someone above mentioned 100 yard moving targets as acceptable. Not for me and I'm pretty good at it. They have to be much closer and unobstructed view. I think the longest moving shot for me was this buck at about 70 yards and flying. First shot was prone and didn't clear the hill I was resting on. No whistle would stop those two big bucks after a missed shot. I aimed for the front of his shoulder thinking he would run into the bullet. That's exactly where I hit him. Good follow through. He collapsed on the spot and rolled to the bottom of the coulee.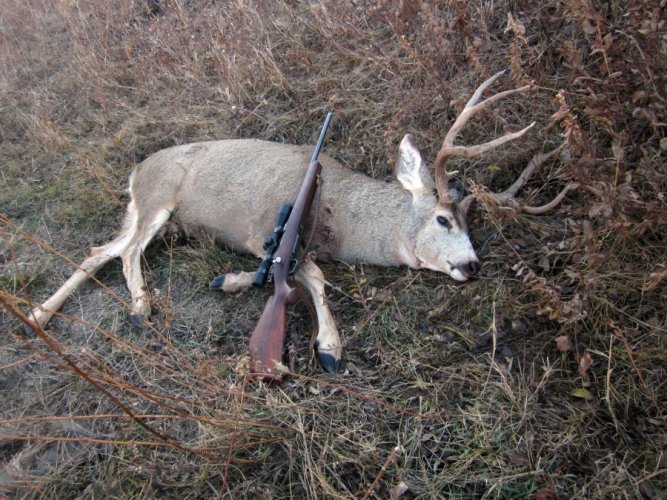 Next year in the same coulee I shot this coyote on the fly at about fifty yards through the heart. Exactly where I expected to hit him. No lead.
I missed the first shot when it was standing looking at me. Overthinking and a really crappy trigger (now fixed).