Joined

Oct 9, 2019
Messages

473
Location
I like birds.
Do you like birds?
8 or so years ago, I started a flock of racing pigeons. The initial motivation was to use for falcon training. I intended to use for dog training, also, but I honestly havent found the need as yet tho I would if I thought I needed to for a new pup.
Now, tho, I think I would keep a flock of racing pigeons even had I no need or use for them. I like watching them fly around every day. I like training them and Ill get them out to returning home from a couple hundred miles away, often beating me back - they are 500 mile racer genetics, so I could theoretically release them on the east coast and Id see them again in a couple days.
I dont race, but there is a club here and I have plans to join and start racing if/once this flock gets a little more established and breeding well in the next couple years.
Here is roughly half my current flock today, the other half is still relatively young and not airborne as long and this was probably an hour after I had let them out so they were sitting or back in the loft at this point.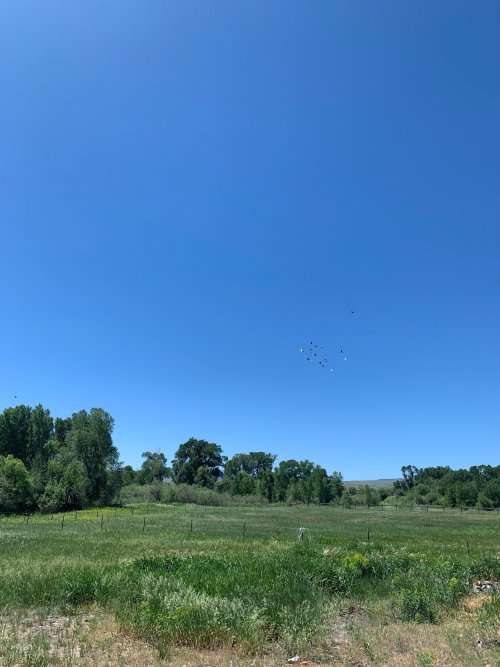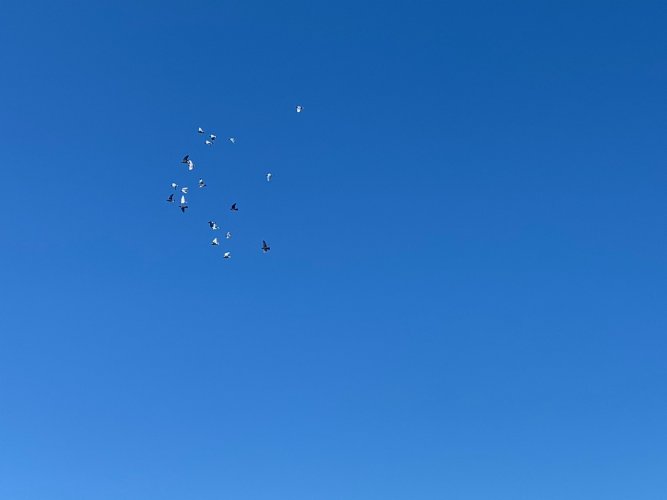 I know I have to spray that knapweed - been a couple years and its time again.
This is my 3rd flock in as many years.
I had a wonderful flock for 2 years that I had gotten started after moving into my new place (once they are imprinted on a loft, they really cant be re-homed to a new one so when you move, you have to start a new flock). They were really great flyers and breeding well. Until a mink got into the loft and killed every last one, 45 or so, in a single night.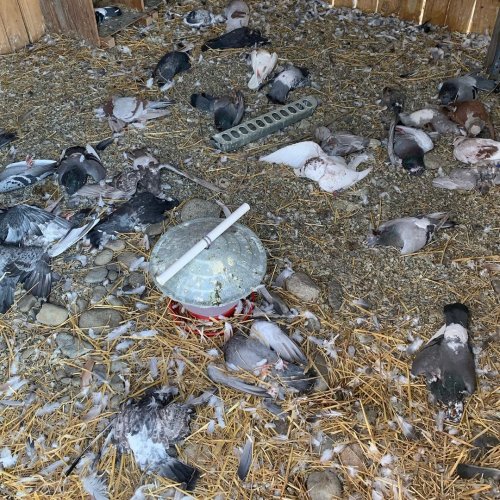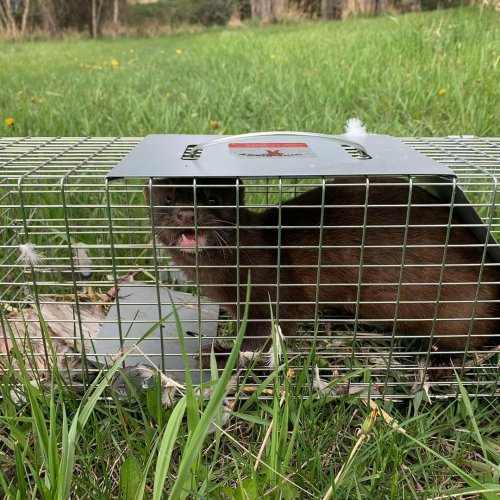 Last years flock was training well, but on a 40 mile training flight one morning they did not beat me home as they usually would. Over the next couple days I got a few trickling in here and there, only ending up with about 20 out of the 35 released. They were never the same after that, often refusing to re-trap for the night or taking multiple days to return. I suspect the flock was shot into by bird hunters as their return flight passed over 2 very popular BMAs - that is the only thing I can think of that would disperse them so badly (a BOP would not).
So here is to hoping these new ones turn out great (as I had to go to eastern Oregon to get half and Wyoming for the other half since none of the local pigeon guys will sell me decent 500 mile racing squeakers)!
Anyone else like pigeons?