Joined

Jun 5, 2019
Messages

109
Well Saturday 10/24 I had my first apex predator encounter in the snow in Eastern Washington. I was deer hunting the modern rifle season solo camping out of my truck. After a few days and only does my buddy texted me asking how I was faring. I told him it was a little cold and hadn't seen a buck yet. He sent me some gps points and told me there's a big patch of fire weeds back here and that's where I shot my last whitetail.
That next morning I went back there and found the patch of weeds. It had snowed the day before about 6" or so and I could see all the fresh tracks in the snow. I got set up on a little meadow just north of the weeds and sat there for about an hour before deciding it was too cold to sit. I decided to still hunt through the burnt timber on some north facing slopes. I reached a beautiful looking gully and thought a great place to sit for deer. But I was still too cold to sit so decided to just walk to the other side. As I got down to the bottom and started up the other side I came across some tracks that weren't deer but I couldn't tell what they were in the deeper snow. I started to walk away but I was intrigued too much so I decided to turn around and look at them again.
I started following the tracks backwards due to not being able to fully tell which direction they were going. I followed them about 40 yards and I came across a log that had a 1 foot+ section of the snow taken knocked off. This log was about knee high and deer don't knock snow off like that. I could tell the trail went through a ton of deadfall and decided not to follow them through there. I turned around and started following the trail the other way.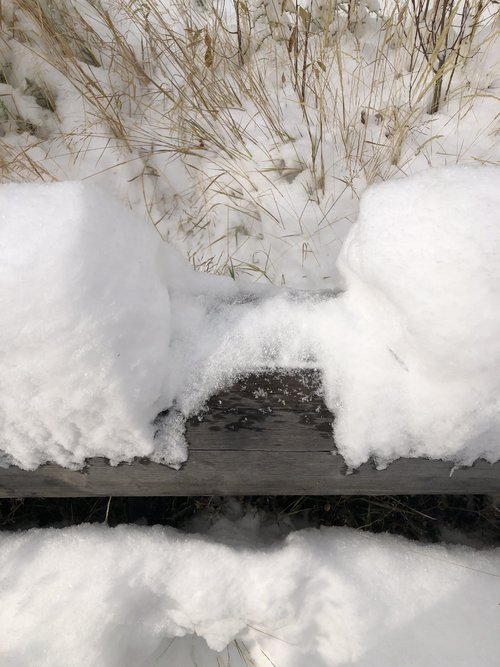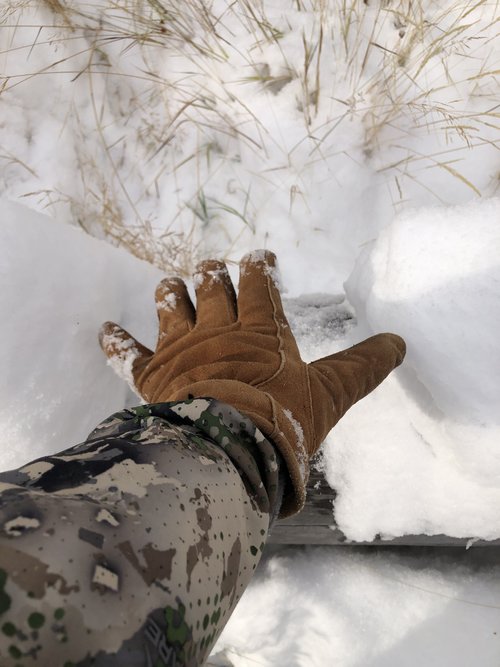 That's when I saw the first clear print. Wolf! And the tracks the size of my palm! And now I was following it the correct way! I was thinking to myself "how cool would it be to see one and also is this a dumb idea?" I didn't make it 100 yards and I look up the tracks and there it is! Out of the brush emerges a big black figure. The words fell from my mouth out loud "Oh my god" as my heart skipped a beat or two. He walked/trotted about 40 yards across the open hillside. Before he got to the brush he just stops and turns his head to look at me for a few seconds before dipping back into the brush never to be seen again.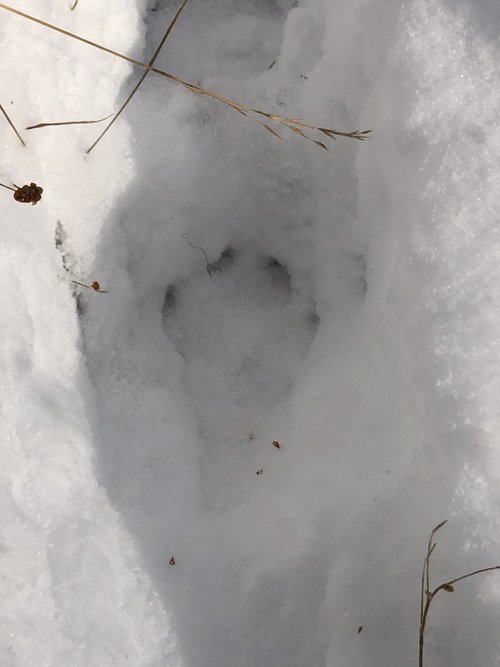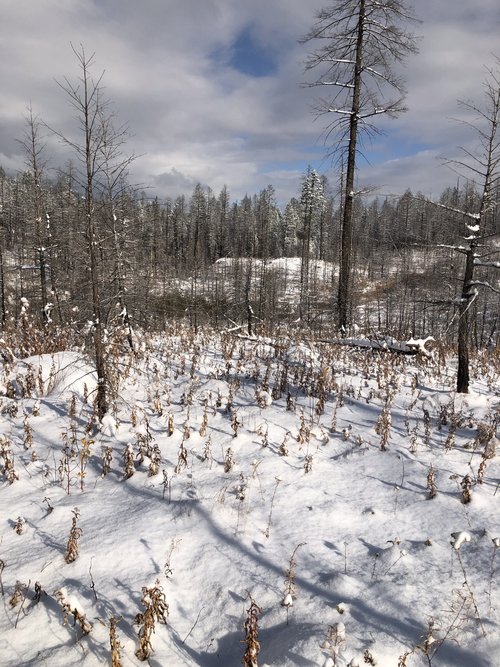 When you see wolves in the zoo you don't really take note how big they are but when you're alone in the woods with nobody within at least a mile of you, you really notice how big they are and how easy it is for them to move through the snow. After our encounter I just decided to back out and head for the truck. He can have that area (also not sure if he had others within he area). All in all it was a great experience even if it was a little scary for a few seconds. They're so in tune with nature he knew about me way before I did him. I only wish I was able to get a picture of him...